The Federal EV Program Kicked In May 1: BC Scoring Big, Ontario Not So Much
Written By Omid Badie, Operations Manager, Automall Network, 2019-05-17

(Back to list)

As Ontario's previous Wynn government came to a crashing halt in the fall of 2018, car dealers throughout Canada were scrambling to get their hands on the last remaining bits of inventory of electric vehicles. Why? There was a sudden demand in Ontario from consumers looking to take advantage of a $14,000 rebate that was most likely going to be scrapped by the new Ford government. With this impending fear, opportunistic (in a good way) Ontarians saw dollar signs and jumped on the bandwagon recognizing that such a deal may not come their way again. And sure enough, that's exactly what happened.

"We were sourcing vehicles for our clients from dealers in British Columbia" said Omid Badie, Operations Manager of Automall Network. "There just weren't any more to be found in Ontario irrespective of brand".

But while Ontario took a step backward, BC and Quebec held firm on their commitment to the environment and to car buyer pocketbooks. In addition, the feds decided to step up and offer a little something to sweeten the pot.

The Federal Government's new Electric Vehicle Incentive Program kicked in on May 1 of this year. The incentive will be either $2,500 or $5,000 depending on the range of the vehicle. Vehicles either purchased or leased on or after May 1, 2019 are eligible.

Vehicles with 6 or fewer seats must have a retail price (MSRP) of $45,000 or less. However, some higher priced trims (up to an MSRP of $55,000) may also qualify.

Vehicles with 7 or more seats must have a retail price (MSRP) of $55,000 or less. However, some higher priced trims (up to an MSRP of $60,000) may also qualify.

Better electric, longer range plug-in hybrids, and hydrogen fuel cell vehicles with a range of 50 KM or more on a single charge will qualify for the maximum $5,000. Shorter range (anything less than 50 KM on a single charge) plug-in hybrids qualify for $2,500.

The following table provides a list of qualifying vehicles: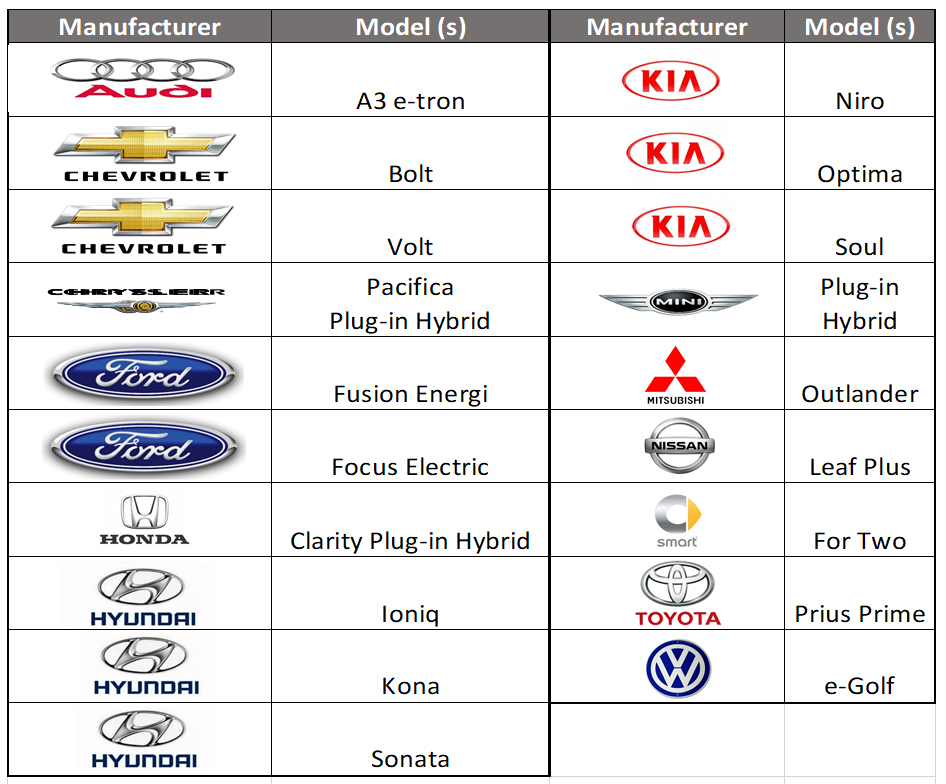 Perhaps the best news is that the federal government will be investing a total of $130 million over the next 5 years to build electric charging stations across the country and many other improvements in infrastructure to support EV ownership. This is all in the hopes that by 2040, 100% of new light duty vehicles being sold will have zero emissions.

BC and Quebec remain the only two provinces with a provincial EV rebate program in place.

What This Means In BC:

The province currently offers rebates up to $5,000 for vehicles less than $77,000. The new Federal Program is in addition to this rebate.

Further, there is a program – called the SCRAP-IT program – which offers a further $6,000 if you scrap an old gas powered car and buy a new or used EV instead.

Just to give more, there is also a $3,000 rebate when you buy a used EV.

With a potential of up to $16,000 in rebates to buy an EV, BC car buyers should very seriously consider the EV options.

What This Means In Quebec:

The province currently offers rebates up to $8,000. For a detailed list of qualifying vehicles and amounts, you can visit the Quebec rebates page.

Again, the Federal program can be applied in addition to this.

Quebec car buyers, like in BC are being offered a great deal to change their driving comfort zone and should seriously consider the EV options.

What This Means In Ontario:

Ontarians are getting the short end of the stick here for sure. The current provincial government terminated the EV rebate program that was introduced previously which offered up to $14,000 on the purchase of a new EV.

Now, at best, an Ontario driver can get $5,000 from the Federal program.

EV vehicles don't look as attractive in Ontario any longer.

What This Means For Other Provinces:

Residents of most other provinces will have access to an EV rebate for the first time and this is a good thing.

Can We Learn From The Best?

The top two nations in terms of adopting EV sales are China and Norway. Norway alone, own 39% of the EV market in Europe and a little less than one third of the cars sold there were EVs. Norwegian EV drivers are not incented with rebates, rather, with free parking and charging and receive substantial tax exemptions (e.g.; on their licensing costs, taxes of the purchase, etc.)

Not only that, but the infrastructure (charging stations and repair centers) are in place throughout the nation to comfortably support a large fleet of EV vehicles.

China is the biggest electric vehicle market in the world with a push for 50% of new vehicles sold being zero emission by 2025.

So it seems that we may be on the right track with the investment the federal government will be making in terms of developing the infrastructure in Canada. We have to have the infrastructure suitably available before we can expect mass consumer adoption. However, we also need the right consumer incentives. While the price of electric vehicles has come down a bit through increased volume production, people need to make it worth their while to buy electric as early adopters.

I am not in support of the provincial rebate cuts however rebates are not the only effective way (as demonstrated in Norway and China) to get people thinking differently. Perhaps introducing other tax breaks or perks would also get more people behind such purchases.

A last point, all these figures are based on full price and do not yet factor in further discounts that can be negotiated, however the degree of negotiation will be based on availability as production is still tight.
(
Back to list
)